This FAQ is for 2013 ticketing and match day information. Click below to access additional 2013 Frequently Asked Question lists.
---
---
How do I buy tickets to Crows home games at AAMI Stadium?
Daily tickets to Crows home games in 2013 will be available through Ticketmaster:

If a match is not sold out prior, any remaining tickets will be available at the gate (AAMI Stadium Gate 2), although it is recommended that you buy in advance to avoid disappointment.
If you have purchased over the phone, you can collect your tickets from Gate 2 at AAMI Stadium (click here to view the stadium map).
---
When can I purchase tickets to each home match?
AAMI Stadium home match ticketing on-sale dates are listed for for Season 2013 below.
If you are an Adelaide Football Club member with ticketing rights, click here for access information.
| | | | | | |
| --- | --- | --- | --- | --- | --- |
| RD | OPPONENT | DATE | TIME | PRIORITY ON SALE | PUBLIC ON SALE |
| 1 | | Friday 22 March | 8.10PM | Mon 25 Feb | Tues 26 Feb |
| 4 | | Sunday 21 April | 2.45PM | Mon 25 Mar | Tues 26 Mar |
| 6 | | Saturday 4 May | 4.10PM | Mon 8 Apr | Tues 9 Apr |
| 8 | | Sunday 19 May | 4.10PM | Mon 22 Apr | Tues 23 Apr |
| 10 | | Saturday 1 June | 1.40PM | Mon 6 May | Tues 7 May |
| 11 | | Saturday 8 June | 4.10PM | Mon 13 May | Tues 14 May |
| 15 | | Saturday 6 July | 7.10PM | Tues 11 Jun | Wed 12 Jun |
| 17 | | Sunday 21 July | 2.45PM | Mon 24 Jun | Tues 25 Jun |
| 19 | | Sunday 4 August | 2.45PM | Mon 8 & Tues 9 June | Wed 10 June |
| 20 | | Sunday 11 August | 2.45PM | Mon 15 Jul | Tues 16 Jul |
| 22 | | Saturday 24 August | 1.15PM | Mon 29 Jul | Tues 30 Jul |
| | | | | | |
---
What seating options are there?
All AAMI Stadium public seating is reserved and allocated on a best-available basis.
Pricing includes booking charges and free bus travel to and from AAMI Stadium on SA Lotteries Footy Express Services.
See the map below for seating options and click here for full pricing information.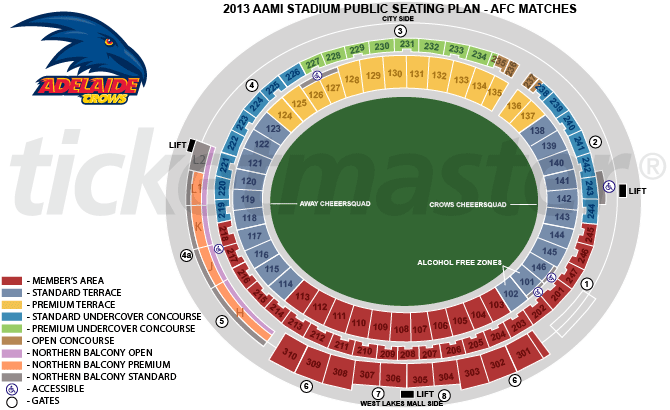 Click here to buy tickets.
---
I purchase a ticket to most home games, what membership options are available?
Adelaide's 11-game membership packages provide a significant saving off of regular daily tickets.
Reserved Seat packages start from just $24.50 per month over ten months.
The Club also offers Victorian, Interstate and supporter and junior memberships starting from just $45 (Junior) and $50 (Adult).
Click here to browse 2013 Membership online or phone Member Services on (08) 8440 6690 to discuss your options.
---
I am interested in joining the Club to ensure myself a seat at Adelaide Oval from 2014. What are my options?
From 2014 all Crows home matches will be played at a redeveloped Adelaide Oval. Click here to take the virtual tour.
The Adelaide Football Club will reward existing 11-game memebers with priority access to the first round of seating allocations, to commence soon.
Don't miss out on this exciting move! The best way to ensure your seat at Adelaide Oval is to join as an 11-game member for Season 2013, enabling you to continue your membership at the inner-city venue from 2014.
Click here to visit 19thman.com.au's dedicated Adelaide Oval page.
---
Where is AAMI Stadium located?
AAMI Stadium is located at West Lakes 14km from Adelaide's CBD. It is close to some of Adelaide's most beautiful beaches, two main thoroughfares (Port Rd and Grange Rd) and located next to one of the city's major shopping destinations, Westfield West Lakes.
The Adelaide Domestic and International Airport is situated 10km to the south-west and is approximately a 15 minute drive from the Stadium.
---
What public transport is available on match-day?
A purpose-built bus terminal outside AAMI Stadium is serviced by FREE SA Lotteries Footy Express bus services, operating from the city, across the suburbs and from regional areas of South Australia on all match days.
Metro SA Lotteries Footy Express services are FREE to all ticket holders and offers an express bus service from special stops along the route, ensuring a fast and direct service to AAMI Stadium. Save time, beat the traffic, and arrive on time with Footy Express!
Click here for SA Lotteries Footy Express timetables and routes and for further details please contact the Adelaide Metro InfoLine on (08) 8210 1000.
---
What car parking options are available on match-day?
Several casual car parking options are available in close proximity to AAMI Stadium.
Please note, as alll car parking is limited, it is recommended that you arrive at least one hour before the opening bounce to ensure smooth entry to the stadium precinct.
Max Basheer Reserve
Limited public car parking is available within the AAMI Stadium precinct (boarded by West Lakes Boulevard, Brebner Drive and Fredrick Road) on Max Basheer Reserve. Entry is via Gate A from West Lakes Blvd. Cost is $15 per car.
Refer to the AAMI Stadium precinct map for more information.
Westfield Shopping Centre
Westfield Shopping Centre car parking is located on the Western Side of AAMI Stadium off Turner Drive. Cost is $12 per car.
Seaton High School
Members are also able to use public parking facilities at Seaton High School. Entry via Frederick road. A shuttle Service available to the AAMI Stadium precinct.
---
Where do I enter the stadium on match-day?
Public seating at Crows home matches is located in the AAMI Stadium outer (southern and western sides) and Northern Grandstand. Enter through gates 1, 2, 3, 4 and 5.
Essential Crows members, seated in the Members Reserve, must enter the Stadium through the designated Members Entrance gates 7 & 8 (disabled Members may use gates 6 & 9 also – contact the SANFL for further details).
---
Where do I go for information on match-day?
The Adelaide Football Club's Member Service Centre, located in the Westpac Centre foyer on the western side of AAMI Stadium if your one stop shop for all things membership, daily ticketing and match-day information.
The Member Service Centre is open each match-day, two hours prior to game time.
---
Is 'The Shed' open on match-day?
In 2013 'The Shed' in the Westpac Centre will be open before and after every home match.
Shed 'Curtain Raiser'
Before the big game, be sure to visit the Crows Shed in the Westpac Centre for the 'Curtain Raiser'! Grab a drink or bite to eat from the Supporters Group BBQ, view a previous Crows' encounter and even watch the players warm-up on a section of the Shed floor (please note: the Club is unable to guarantee a player's presence).
Admission charges apply to non-members (Adult $4 , Concession $2, Junior $1). This price also includes entry to the Caltex Shed Party after the game.
Shed Party Post-game
After the match, head into the Westpac Centre for the Shed Party! Grab a bite to eat from the Supporters Group BBQ, watch the match-replay on the big screen and hear from players and coaches. You'll also get the opportunity to meet the players on the Shed floor!
Gold members entry is free! Normal admission prices apply to non-members (Adult $4 , Concession $2, Junior $1).
---
Are there any activities for families and junior Crows fans before the game?
Be sure to visit the Kids Footy Zone on Max Basheer Reserve before the game! The zone features a kick and catch inflatable field, football skills activities, free kids amusementsa and face painting. There will alos be appearances from Claude the Crow!
Visit the Match Day Portal for a full run down of game day fan activities before every home match.

Back to top
---
What can I do if on match-day, I am seated in the vicinity of a patron who is behaving in an inappropriate manner?
AAMI Stadium match-day patrons are subject to strict standards of behaviour. Instances of inappropriate behaviour can be reported on the day to AAMI Stadium Event Staff, or to the Match Day Office adjacent to the southern members cross over gate. The League strongly urges all patrons to report any incidents of poor behaviour on the day.
---
How do I purchase tickets to Crows away games interstate?
You can find out more about purchasing tickets to Crows away matches at interstate venues via the links below:
AFC Members can also purchase tickets to interstate matches, directly through the club. These tickets are available at cost price to members, allowing you to sit with other Crows fans at interstate venues.
Click here to view away game fixtures where the Club has an interstate allocation.
---
What interstate match travel packages are available via the Club?
The AFL and Adelaide Football Club offer a range of flexible packages to any AFL match with guaranteed access to see the Crows in action with Any Game Anywhere. The program is an industry first, delivering fans a dynamic, customised and comprehensive travel package solution for every game of the season.
Tailor a complete footy getaway that includes tickets to the match of your choice, airfares flying Virgin Australia, accommodation, and entertainment and see your footy heroes in the flesh at any game, anywhere around the country.
Packages are ON SALE now – Click here to find out more and book online or call 1300 235 235.